Artificial Intelligence: How It Can Help Your Next Trade Show
by Madison Frye on May 26, 2023 11:25:40 AM
AI has been changing the event industry as we know it. Check out our latest article to learn more about how it can help to achieve your audience's needs.
Written by Madison Frye, Marketing Associate with Map Your Show
If there's one headline that has taken over just about all news and social media, it would be Artificial Intelligence (AI). You may also know it referred to as Chat-GPT. Chat-GPT is an OpenAI product that utilizes a subfield of AI, called Natural Language Processing (NLP). But what exactly is AI and how can you use it for your next trade show? There are plenty more options than just Chat-GPT.
AI and Events: What is AI and Why Should I Use It for My Trade Show?
AI or "Artificial intelligence" is software's ability to mimic the problem-solving and decision-making of the people who use it. Basically, it makes predictions for you, so you can spend less time researching and more time with the more important things in life.  AI also has many different subcategories, such as Machine Learning, Neural Networking, Natural Language Processing, and more. While the popularity of AI started recently, AI has theoretically been around since before there were words to fully describe the process. As for today in the event industry, AI is not only growing itself, but the technology is also here to help your trade show grow. The best part is that you don't have to be tech-savvy to use them. You just need the right Trade Show Management Platform that utilizes the technology.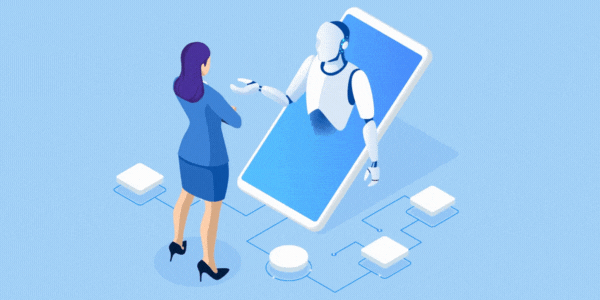 We all know the worry of implementing new technology that you may feel unfamiliar with. The good news is our team at Map Your Show has been working with AI for many years and we are always looking for ways to help your show continue its path of innovation. We currently utilize AI through our Recommendation Engine. At the heart of this addition to our software, we want to empower show organizers, Exhibitors, and Attendees to get the most out of their events. Let's dive a bit deeper into the specific audiences you are looking to help and later, what the Recommendation Engine really is.
When Implementing an AI Tool, Who Do You Want to Help?
When looking for information on software to utilize for your trade show, it is good to take a moment to put yourself in different perspectives of your audience. By stepping into the shoes of each individual, you can receive a better understanding of what is truly needed. It is extremely important not to skip this step! You do not want to risk misalignment. Let's look into the following: Trade Show Managers, Attendees, and Exhibitors.
Let's begin with you and your team. While it is easy to understand how you may feel, your team may feel differently regarding workload, overall job satisfaction, and more. During the Covid pandemic, we saw teams shrink to half their usual size with the same amount of work. As the industry recovered, we are still seeing many of those small teams. Exhibitors, on the other hand, face the problem of visibility. A 2023 industry report concluded that 67% of companies state visibility is their first priority when exhibiting. This tool will need to funnel valuable leads to these Exhibitors to keep them coming back to your show. As for Attendees, time is extremely valuable to them. How can you offer ease of use and quick access to the products and services they're looking for? Map Your Show's Recommendation Engine offers something for all these audiences.
What Is a "Recommendation Engine" and How Can It Help My Audience?
Now that we know the needs and the specific audiences we have, let's dive into what a Recommendation Engine really is. A Recommendation Engine is a tool that suggests items a viewer may be interested in, based on their engagement. This helps to incentivize an Attendee (your Exhibitor's potential prospect) to view a company, a product offer, an educational session, and more on the online show portal. Having a recommendation system for your event is an absolute must when it comes to generating leads for your Exhibitors. After all, lead generation is one of the main reasons they attend your event!

Map Your Show's easy-to-use Trade Show Management Software will show these recommendations on the top menu bar next to the "My Show Planner".
Through this, Attendees can also spend less time searching for what they need and more time engaging with the companies they're really looking for. As for you and your team, this increases the value of your show to your audience, resulting in higher return rates. When Exhibitors experience how well the Recommendation Engine works, this also opens the opportunity for a chat about further sponsorship offers. Our Exhibitor Engagement Team is extremely well-versed in this, both selling sponsorships for your show or working in unison with your show's sponsorship sales team. They also can assist with educating your Exhibitors on how to obtain the most value from their online advertising opportunities.
The Future of AI and the Event Management Industry
We've talked about how you can use AI for your events today, but what does this mean for the future of the event management industry?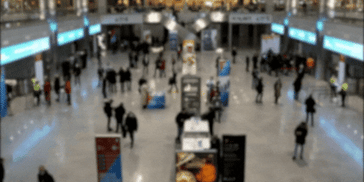 Simply put, it means automation. Creating an AI-guided (not powered) show is the key to teams who are feeling overworked or understaffed. However, even full-force teams will benefit from AI's automation. At the heart of your show's creation should always be your Event Management Team.
With the future assistance of AI bound to increase, one could expect Natural Language Processing (NLP) to be implemented across their Trade Show Management Platform. This would assist with quick email creation, Exhibitors creating content for their company profiles, and more. Another possibility is the use of AI in the form of enhancing data visualization and predicting trends. Imagine knowing that 9 days out from the show, year after year, there was a sudden rush of Attendee sign-ups. AI could help to identify these trends, allowing you to get back to creating a great show.
As Map Your Show's Trade Show Management Platform continues to grow and develop, we look forward to incorporating more and more of these tools as it becomes appropriate. If you are interested in learning more about utilizing Map Your Show's Recommendation Engine for your next trade show, schedule a demo with our team today.