Keeping your exhibitors up-to-date on your show's technology and sponsorship opportunities
In-person attendance will most likely be down in the next year, but you still have the opportunity to bring part of your show online when you choose to go Hybrid. Exhibitors can upload company specific content to their online directory, sharing their latest products and announcements with attendees.
In an ideal world, every exhibitor would populate their showroom with an ample amount of content, utilize show features such as virtual business cards, and present live demos to a remote audience. However, many exhibitors don't have experience with virtual or hybrid events, so it will be up to you and your team to show them how to effectively use your event management software to create the best show experience. A great way to show your exhibitors how to use this latest technology is to host a webinar. Here are a few ways a webinar can increase the success of your event:
Enrich Content
Webinars can be a helpful tool when explaining the process of uploading content. As you know, everyone learns differently. Some are more successful by reading alone. Others do better with video. Some thrive with more of a hands-on approach and need a live demonstration so they can follow along and try to complete the task on their own. A webinar allows your exhibitors to see the uploading process firsthand, increasing their comfort level with the platform so they are more likely to do it independently. When exhibitors feel comfortable uploading their own content, they feel a sense of ownership and obligation, making them more likely to take advantage of the technology made available to them. Webinars have shown a large increase in valuable content. The more exhibitors that upload content, the more successful your online showrooms will be.
Here are a couple examples of showrooms. The first has very little content. This showroom doesn't include a company description, product images or downloadable collateral. The second showroom has been fleshed out and includes much more useful and engaging information: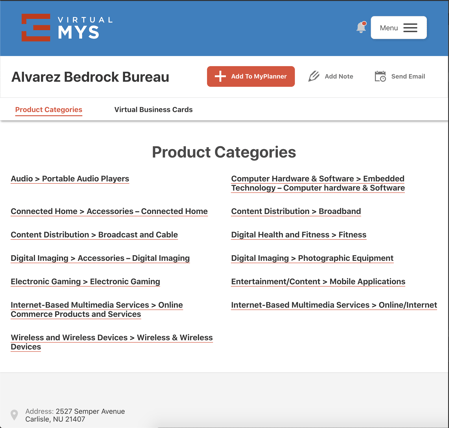 .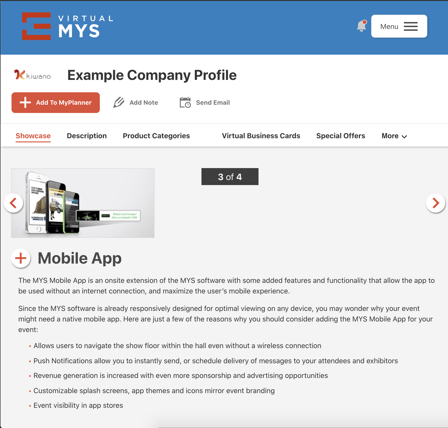 As an attendee, which would you be more likely to view? When you guide your exhibitors through the process of uploading content and explain the impact it can have on their ROI, they will be more likely to spend more time on making their profile as attractive as possible.
Increase Usage and Connectivity
As previously stated, the biggest obstacle your exhibitors face is not being aware how to use the software your show will use to host your event. A webinar is an effective way to show all your exhibitors the features and benefits at one time, allowing for questions and answers, ensuring they get the most out of their experience exhibiting at your event.
Live Demos with Group Chat
For example, you can include a How To section in your webinar that explains how to use Live Demos with Group Chat. Once exhibitors learn how to use this feature, they can produce valuable demonstrations for attendees, while also engaging directly with their audience by using the real-time chat.
Example of MYS Live Demo with Group Chat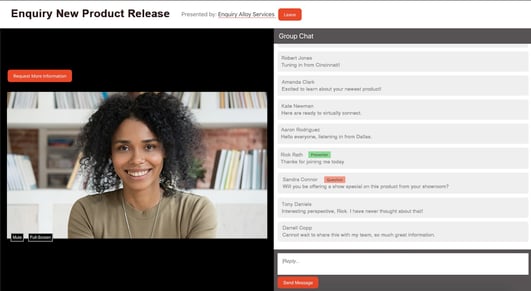 Virtual Business Cards
Another great feature to demonstrate are virtual business cards. These will be a main method of generating connections and leads during your online event. Exhibitors should know how to add their contact information so that attendees can get in touch with them throughout the duration of the show using chat and even continue the conversations after your event ends.
Sell Sponsorship Upgrades
During the webinar, you can give exhibitors a preview of what their profile could look like if they decide to invest in enhancing their showroom. Take this opportunity to show potential upgrades to their profile, such as more product images and videos, premier placement in the directory, or an increased amount of show specials. By actually showing the exhibitors what their investment can provide, they are more likely to see the ROI and purchase upgrades and other sponsorship opportunities.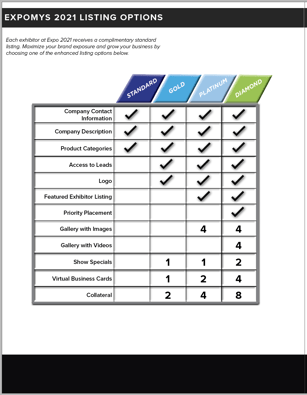 There are many groups that will act as an extension of your team that specialize in selling sponsorships. These professionals know the benefits sponsorships can give to your exhibitors, so let them lend a helping hand. Reach out to this Exhibitor Engagement Team and learn more today!
The success of your online event is truly left up to your exhibitors. The more knowledgeable they are about the event software, the more likely they are to use it properly. By scheduling webinars prior to the start of your event, you can give a helping hand, and also ensure a successful event.