Facilitating relationships is something that he knows best.
Syd Rivera has been a vital part of the Map Your Show team and continues to be a key asset to MYS. Read his interview to learn more about his experience throughout the years and how he is continuing his path of facilitating relationships.
What year did you start with Map Your Show and how did that come about? How many years have you worked in the trade show industry?
I started out more on the travel side of things with United Airlines over 35 years ago. I came to Map Your Show via a company called Map Networks. I'd been working for them for a number of years when it was announced that they were selling, and I was tasked with finding a buyer for the print map side of things. A few weeks later I was in Cincinnati, pitching to Phil Louis. MYS negotiated a deal with TMN and in January 2008, I came onboard Map Your Show.
What is it about the trade show industry that has kept you in it for so long?
I'm old school. It has always been about my customers. I was always a believer that if someone likes you and trusts you, they'll buy from you. You stay in touch with them and eventually become friends. That's what has kept me in it. It makes the hard conversations easier, and you can get right to the solutions. It's nice to work with friends in the business!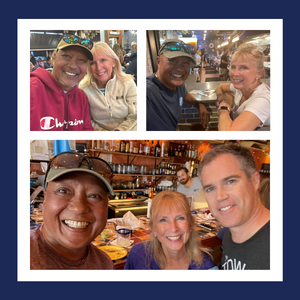 What advice do you have for someone new to the trade show industry?
Expect to work hard, understand your fellow employees, and most importantly, keep facilitating relationships.
Which has been more valuable in your career, your education or your experience?
Definitely my experience. You can learn a whole lot in school, but nothing will help you move ahead more than life experiences. Plus, the people I've met have added so much value to my career.
How do you think the industry has changed since you started?
It has gotten so very technical! The software has ramped up at least 20 times as much as when I first joined the trade show industry 30+ years ago. The industry has gotten so much smarter in terms of event and trade show management. The volume of business requires the best software out there.
What is the culture like at MYS?
Map Your Show is a wonderful place to work, and it's the people that make it this way. I believe we have the best customer service in the industry and credit that massively to Blake [MYS, VP of Customer Success], Julie [MYS, VP of Technology and Customer Relations], and Don [MYS, CEO], just to name a few of the many. They have made it great, and people end up telling others about our company. To work somewhere with culture this strong, the product almost sells itself.

If you don't mind, tell us a little bit about your health right now; the sales folks say everyone has been asking about you.
I've gotten so used to getting stuck with a needle, I've probably lost count of the number. But the good news is my health has stabilized. I've recovered from a surgery that I had back in November of 2020. I lost about 35lbs and now I'm mainly working on building back my strength. In the afternoons, there is a lot of fatigue, but I have fun with my days. I have chemo scheduled every other week, which is a big improvement from a few months ago. I used to be three weeks on and one week off. With the chemo, the buzzword for me is 'immunocompromised'. I would love to be able to see more of my industry friends but just can't risk it.
One thing that I decided to do for myself is Tai Chi. It's very relaxing and it takes a lot of stress away. There's a lot of focus in doing Tai Chi and it requires a lot of practice to get the right benefits out of it. Tai Chi is about finding your core and your balance. My instructor works with me now to ensure I practice it daily. I think that helps my day-to-day living so I can concentrate on being optimistic.
If you could have one superpower, what would it be?
There is a lot I'd like to be able to do, but if I could, I would like to have the power to reduce pain. I've seen so suffering in the hospitals and think to myself, 'God, I wish I could help you'.
Finally, exactly how much cheese is too much parmesan cheese?
This is just one more memory among many of the experiences I've had over the years in the industry. Jane Sweatt [MYS, Project Coordinator] and I were at an Italian restaurant after a day at the ASAE show and there may have been a beer and a wine involved. We had issues getting service and were getting agitated. We asked for parmesan cheese and when the waiter came back with it, somehow there was a giant snowstorm of cheese. It was all over the damn place, but mostly in my lap and all we could do is laugh. Jane has more details. Ha!
---
Through stories and experiences, Syd continues to be a vital part of MYS. By focusing on creating bonds and facilitating relationships, he has grown to be not only a professional salesperson but someone who is recognized for their overall positive nature around the trade show industry. We at MYS wish for him this holiday season an abundance of family time, a magnum of happiness, and lots and lots of parmesan cheese.