An event on St. Patrick's Day without hiccups? YES. Here at MYS, we love to celebrate wins and using our latest software to host the first MYS Live event on March 17th is something to celebrate! If you missed our event because of your own St. Patrick's Day celebrations or if you would just like a recap of the sessions, you are in the right place.
"The resurgence of in-person events is upon us. Many of the MYS Live attendees were people who are picking up the event industry and getting it restarted." Don Kline, CEO of Map Your Show. Don touched on being optimistic that in-person events are back but expects the next few months to be a bit bumpy, which is why we decided to gather industry experts to discuss how we keep moving forward and learn from each other. "The MYS team has been hard at work developing new tools and reshaping existing products to meet the challenge of what in-person events will be following 2020. Everything we have developed for online events was strategic to work hand-in-hand with the return of in-person events," Don stated.
Opening Session: Making Technology Decisions
Jerry, Elli, Karalynn, and Lindsay had a great panel discussion about pivoting during the pandemic and reaching for all available technology to make sure their events could go off without a hitch.
These panelists discussed their key takeaways from how the event industry transformed in 2020, touching on topics such as having to cancel already-planned shows in March when the pandemic hit the US and starting from ground zero with technology, and how to choose a platform to host events with different needs. This session really dives into the difficult decisions made by industry leaders when virtual events became the only option.
Session 2: The Return to In-person: Industry Standards and Safety
The overall expectation is for our industry to improve at a steady pace throughout 2021 with the end goal of being able to have in-person events. While Don, Aaron, and Neil talked about the progression of events in the near future they also discussed how all event needs are different but will have to adhere to similar standards and safety guidelines for a seamless return. No one has all of the answers just yet, but these subject matter experts are confident in the rise of our industry even with the long road ahead. To help the industry move forward, Fern is launching a new product called Fern Health Check, powered by sharemy.health. It provides a digital health pass as a way to validate whether or not event participants have gone through the required health screenings. Teaming up with a healthcare company that specializes in medical records allows them to offer a product that collects medical data and is HIPAA compliant. This will be available to all events regardless of whether or not they are Fern customers. Check out the graphic below for more information.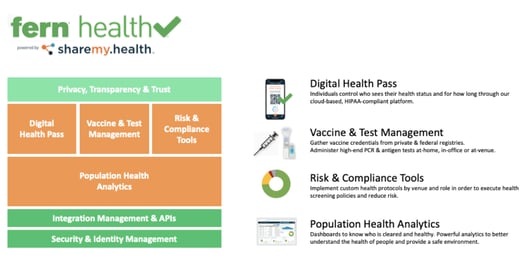 Session 3: Live Q&A with MYS Experts
This session encompassed four of the brightest minds from the team at MYS together to field customer and general industry questions. The Q&A session was full of questions about the MYS platform, and the audience was pleased with live interaction.
Our interactive demos included three of MYS's most sought-after tools and products – yes, it was hard to choose just three. Subject matter experts from MYS took a deep dive on Exhibitor Engagement Opportunities, Booth Sales, and MYS Conferencing updates.
Overall, we are happy to report the event was a major success and we are planning for more MYS Live events in the future! If you missed our live event, do not fret! All sessions and demos were recorded for you to watch at your convenience. Feel free to reach out to your sales rep for more information on how to access the recordings or fill out the form below. Also, if there are any topics you would like to see covered in future events, please let us know.